It's the Van That Can
Introducing the 2020 Transit Custom. With a suite of standardised tech features and two new entities, the bold & stylish Transit Custom Sport and the Double Cab In Van variant, this van means business. With the advanced Euro 6.2 certified, 2.0L EcoBlue diesel engine, 6-speed automatic transmission option and a choice of over 100 paint options. It really is the van that can.
When your van doubles as your office, a smart design makes all the difference. Packed with technology and features to help you work smarter, the 2020 Transit Custom helps lighten the load and make work a pleasure.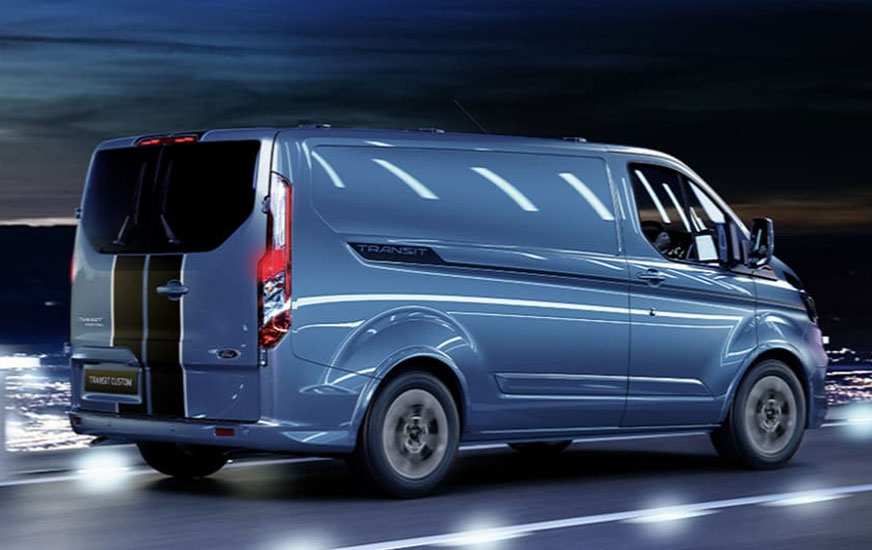 Power & Efficiency
If traffic slows in front of you, Adaptive Cruise Control can automatically slow to maintain a pre-set distance. Once traffic clears, it returns to your cruising speed3.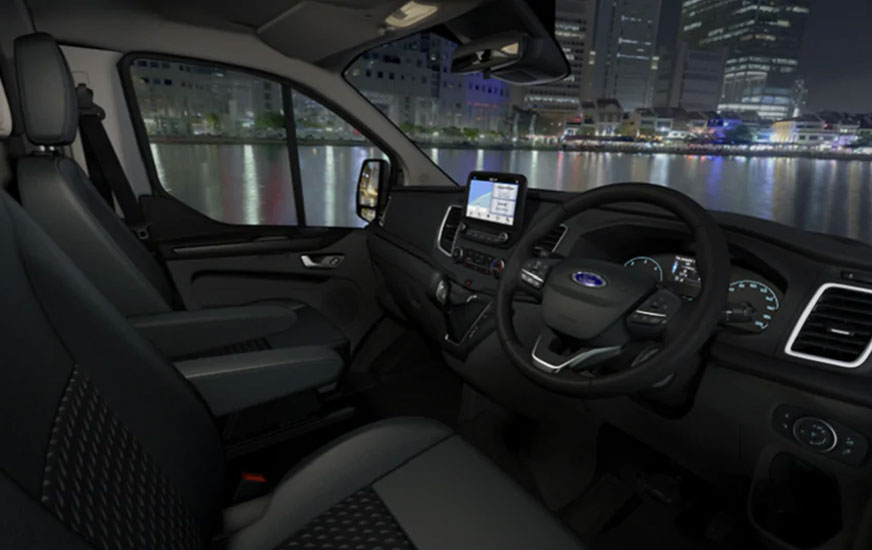 Cutting Edge Style
The striking exterior is spearheaded by 17" machined alloy wheels, sports body kit, unique body stripes & sport decals. Not to be outdone, the sleek and refined interior with 8" floating touch screen, centres around driver comfort and entertainment.
Innovative Driver Assistance
2020 Transit Custom Double Cab in Van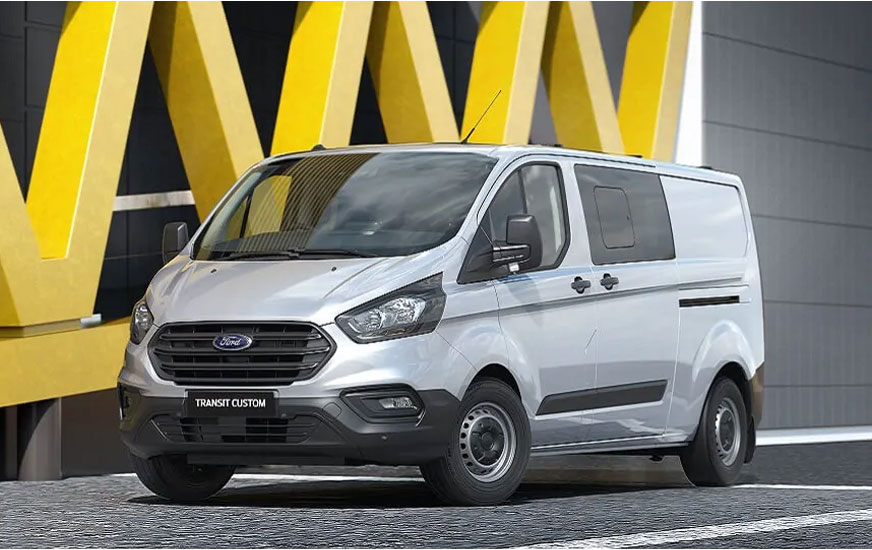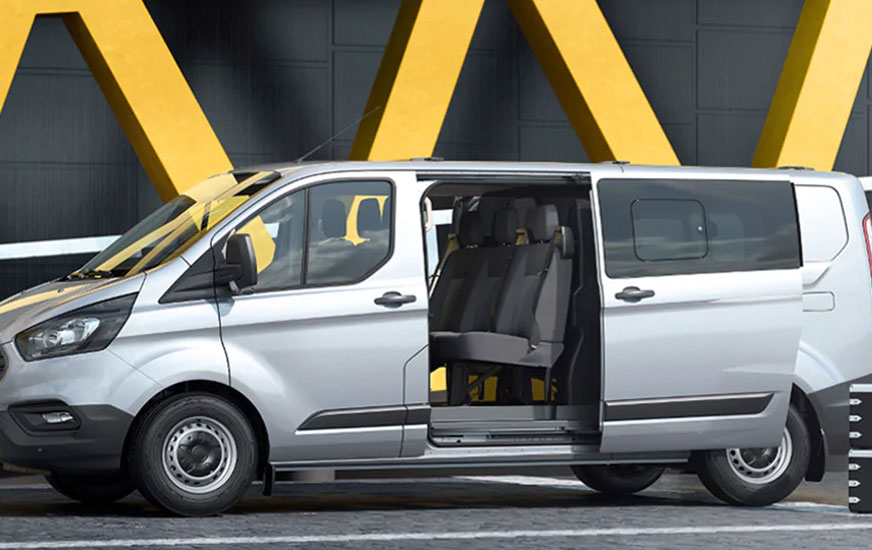 Room For The Whole Crew
Introducing the 2020 Double Cab in Van. The 340L LWB offers the perfect solution for moving crew & cargo. With an additional 3 seats behind the driver, 6 seats total makes room for the whole crew.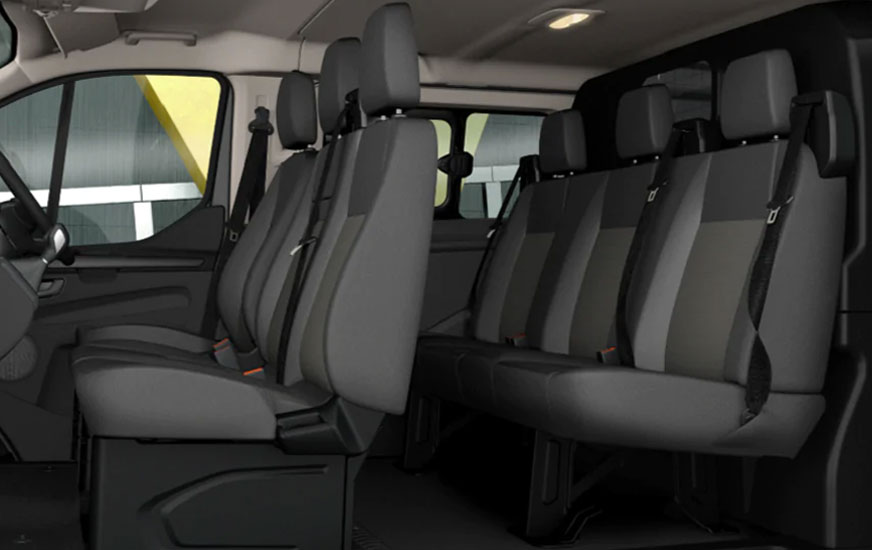 Practical Meets Style
With up to 4.3 cu.m load space6, dual-side load doors with a 2nd-row side window and up to 1.8m of interior space this van is the perfect tool for the job.

Compare Models
Transit Custom 340S SWB Van
Standard Features Including:
Adaptive Cruise Control

Apple CarPlay™ and Android Auto™ integration

Blind Spot Monitoring System

Combined Fuel Economy (L/100km) - Manual 6.6 / 7.2

FordPass Connect - Embedded Modem

Lane Keeping Assist With Lane Departure Warning

Load Space SAE (with Bulkhead) (cu.m) 5.7

Maximum Braked Towing Capacity - Manual 2500 / 2000

Pre-Collision Assist - AEB with Pedestrian Detection

Rear Parking Sensors

Reverse Camera
ransit Custom 340L LWB Van
Standard Features Including:
Adaptive Cruise Control

Apple CarPlay™ and Android Auto™ integration

Blind Spot Monitoring System

Combined Fuel Economy (L/100km) - Manual 6.5 / 7.2

FordPass Connect - Embedded Modem

Lane Keeping Assist With Lane Departure Warning

Load Space SAE (with Bulkhead) (cu.m) 6.6

Maximum Braked Towing Capacity - Manual 2800 / 2000

Pre-Collision Assist - AEB with Pedestrian Detection

Rear Parking Sensors

Reverse Camera
Transit Custom 340L DCiV
Standard Features Including:
Adaptive Cruise Control

Apple CarPlay™ and Android Auto™ integration

Blind Spot Monitoring System

Combined Fuel Economy (L/100km) - Manual 7.3

FordPass Connect - Embedded Modem

Lane Keeping Assist With Lane Departure Warning

Load Space SAE (with Bulkhead) (cu.m) 4.3

Maximum Braked Towing Capacity - Manual 1800

Pre-Collision Assist - AEB with Pedestrian Detection

Rear Parking Sensors

Reverse Camera
Transit Custom Sport 320S SWB
Standard Features Including:
Adaptive Cruise Control

Apple CarPlay™ and Android Auto™ integration

Blind Spot Monitoring System

Combined Fuel Economy (L/100km) - Manual 7.2

FordPass Connect - Embedded Modem

Lane Keeping Assist With Lane Departure Warning

Load Space SAE (with Bulkhead) (cu.m) 5.7

Maximum Braked Towing Capacity - Manual 1800

Pre-Collision Assist - AEB with Pedestrian Detection

Rear Parking Sensors

Reverse Camera
Transit Custom Sport 320L DCiV
Standard Features Including:
Adaptive Cruise Control

Apple CarPlay™ and Android Auto™ integration

Blind Spot Monitoring System

Combined Fuel Economy (L/100km) - Manual 7.3

FordPass Connect - Embedded Modem

Lane Keeping Assist With Lane Departure Warning

Load Space SAE (with Bulkhead) (cu.m) 3.5

Maximum Braked Towing Capacity - Manual 1800

Pre-Collision Assist - AEB with Pedestrian Detection

Rear Parking Sensors

Reverse Camera