Ford Escape.
Come out and play.
Bold and nimble, the Escape is the perfect small SUV for any family getaway. With powerful and efficient engine options all housed inside a distinctive design, the Escape has every capability for adventure and it looks the part too.
The Sporty Escape ST-Line
Athletic styling, precision handling matched with a powerful engine, the Escape ST-Line is ready to go. With 19-inch Black Alloy Wheels, large rear spoiler, a lower ride height and recalibrated electronic steering, the Escape ST-Line is sure to ignite your sporty side.
Technology.
Smart Meets Style
The Escape is a showcase of Ford innovation. Sync to favourite apps like Spotify, get live traffic updates on the 8 inch capacitive touchscreen. The intuitive SYNC® 3 system is smart and simple. With enhanced voice control and updated commands, even your kids can talk to it.

Design.
Ready for play
Bolder. Sportier. More refined. The Escape's exterior design stands out from the rest – whether in the city or on a weekend family getaway. Complemented with a distinctively stylish and comfortable cabin, the Ford Escape is ready for some serious fun.

Performance.
Power to do more.
Responsive, nimble and more than capable of tackling tough road conditions - almost nothing is off limits to the Escape. A choice of cutting-edge EcoBoost engines are designed so you'll spend more time exploring and less time at the fuel pump.

Safety.
Drive with total confidence.
Nothing is more important than your family's safety. So when adventure calls, Escape gives you the confidence to say "Let's go!". In addition to seven airbags, the Escape offers real peace of mind with advanced safety features as standard.

Compare Models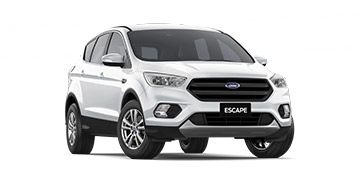 Escape Ambiente 1.5L EcoBoost Petrol FWD (Manual)
Standard Features Including:
8" capacitive touchscreen
Apple CarPlay & Android Auto integration
Enhanced Active City Stop (Low Speed Autonomous Emergency Braking)
SYNC® 3 connectivity system with AppLink™ and Enhanced Voice Control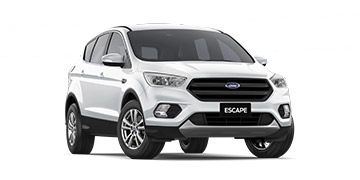 Escape Ambiente 1.5L EcoBoost Petrol FWD (Auto)
Standard Features Including:
6-speed automatic transmission
8" capacitive touchscreen
Apple CarPlay & Android Auto integration
Enhanced Active City Stop (Low Speed Autonomous Emergency Braking)
SYNC® 3 connectivity system with AppLink™ and Enhanced Voice Control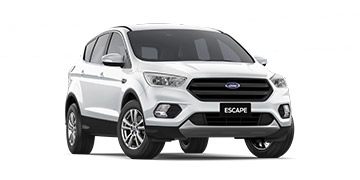 Escape Ambiente 1.5L EcoBoost Petrol AWD
Standard Features Including:
6-speed automatic transmission
8" capacitive touchscreen
Apple CarPlay & Android Auto integration
Enhanced Active City Stop (Low Speed Autonomous Emergency Braking)
SYNC® 3 connectivity system with AppLink™ and Enhanced Voice Control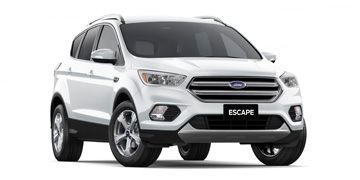 Escape Trend 1.5L EcoBoost Petrol FWD
Standard Features Including:
Automatic On/Off headlamps
Automatic rain-sensing windscreen wipers
Electrochromatic rear view mirror (auto-dimming)
Enhanced Active City Stop (Low Speed Autonomous Emergency Braking)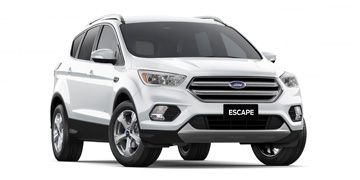 Escape Trend 2.0L EcoBoost Petrol AWD
Standard Features Including:
Automatic On/Off headlamps
Automatic rain-sensing windscreen wipers
Electrochromatic rear view mirror (auto-dimming)
Enhanced Active City Stop (Low Speed Autonomous Emergency Braking)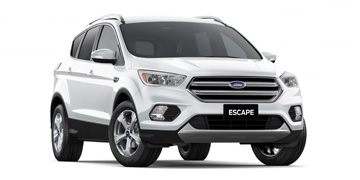 Escape Trend 2.0L TDCi Diesel AWD
Standard Features Including:
Automatic On/Off headlamps
Automatic rain-sensing windscreen wipers
Electrochromatic rear view mirror (auto-dimming)
Enhanced Active City Stop (Low Speed Autonomous Emergency Braking)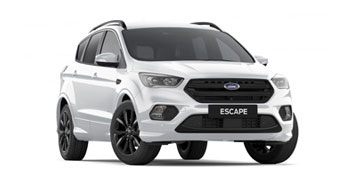 Escape ST-Line 2.0L EcoBoost Petrol AWD
Standard Features Including:
Automatic On/Off headlamps
Automatic rain-sensing windscreen wipers
Electrochromatic rear view mirror (auto-dimming)
Enhanced Active City Stop (Low Speed Autonomous Emergency Braking)
Smart Keyless Entry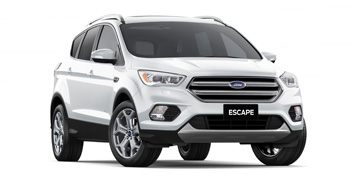 Escape Titanium 2.0L EcoBoost Petrol AWD
Standard Features Including:
Bi-Xenon HID headlamps with auto levelling
Enhanced Active City Stop (Low Speed Autonomous Emergency Braking)
Enhanced Active Park Assist
Hands-free power tailgate with Open Sesame
Panoramic sunroof (power openable)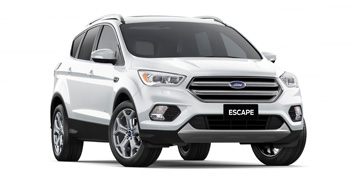 Escape Titanium 2.0L TDCi Diesel AWD
Standard Features Including:
Adaptive Beam Shape and Dynamic Bending headlamps
Enhanced Active City Stop (Low Speed Autonomous Emergency Braking)
Hands-free power tailgate with Open Sesame
Panoramic sunroof (power openable)