Ford EcoSport.
Move Free.
The EcoSport is always ready for action. Make the most of every day of the week, fit more in, go a new direction. Designed to help you do more, you'll love this compact urban SUV.
Be Nimble. Be Quick.
Every inch of the Ford EcoSport is designed to help you do more, move freely and roam far and wide. With its bold design, the EcoSport always looks like it's ready for action, because it is.
Capability.
Ready for whatever the city serves up.
Even the smallest details in the EcoSport are designed to make your drives exceptional. From rear-seats that fold up to create more space, to stowage compartments designed to perfectly fit your coffee cups, water bottles, smartphones and tablets - EcoSport is on your side, in ways big and small.

Technology.
Stay in tune with your city.
Make calls, listen to text messages and play your favourite tunes, all while keeping your hands on the wheel and eyes on the road. It's just one of the ways the Ford EcoSport helps to make life easier.

Efficiency.
More of what you need, less of what you don't.
No one should be a regular at their petrol station. That's why the Ford EcoSport is designed to give you excellent fuel economy and responsive power, which means you'll be seeing the guys at the pump a lot less frequently.

Safety and Driver Assistance.
The most important features you'll never use.
There are many reasons to feel safer in the Ford EcoSport. It offers you features that help protect you, and others that help prevent the need for protection in the first place. And that adds up to invaluable peace of mind – wherever you go, in whatever conditions.

Compare Models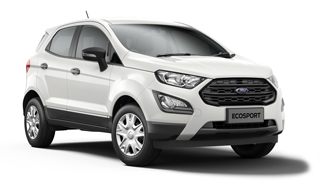 Ambiente 1.5L Petrol
Standard Features Including:
1.5L Petrol with 6-Speed Automatic Transmission
6.5" Capacitive Touch Screen
Apple CarPlay & Android Auto Integration
Bluetooth® Integration
Rearview Camera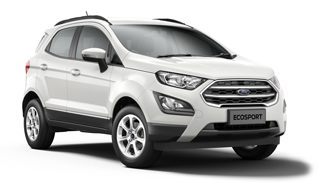 Trend 1.0L EcoBoost Petrol
Standard Features Including:
1.0L EcoBoost Petrol with 6-Speed Automatic Transmission
8" Capacitive Touch Screen
Apple CarPlay & Android Auto Integration
Rearview Camera
Satellite Navigation with Voice Control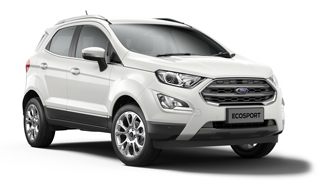 Titanium 1.0L EcoBoost Petrol
Standard Features Including:
1.0L EcoBoost Petrol with 6-Speed Automatic Transmission with Paddle Shift
8" Capacitive Touch Screen
Apple CarPlay & Android Auto Integration
Leather Accented Seats
Smart Keyless Entry with Push Button Start/Stop